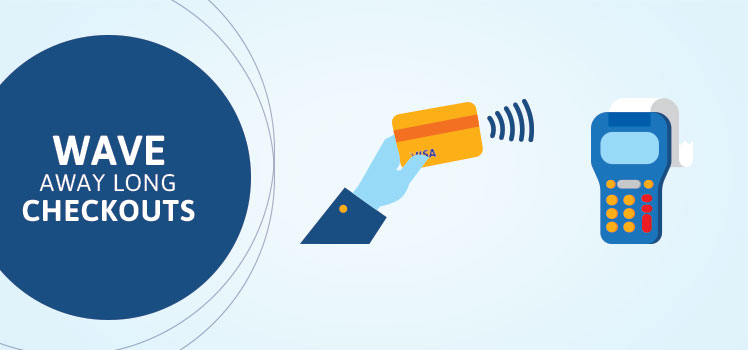 Standing in line and waiting at the checkout counter can be frustrating. Those repeated card swipes by the customer in front can get quite annoying. Payment cards like VISA's payWave are out to change that. The card uses NFC (Near Field Communication) technology that makes contactless payment possible. Revolutionising payments in India, payWave is a secure technology wherein transaction time is significantly reduced. Just wave your payWave card at the secure reader without the need to key in a PIN or sign a receipt, and the transaction is complete. It's fast, easy and incredibly convenient. Visa has introduced this in collaboration with some of the top banks in India such as Axis Bank, IndusInd Bank, Bank of Baroda, SBI, ICICI and IDBI, to make payments faster.
These cards use a technology called NFC that enables your mobile phones to securely transmit and receive information over a small range, typically requiring a distance between 2 to 4 cm when making a payment. Contactless cards have an embedded antenna and microchip, enabling "contactless" communication with a reader at the checkout. The transaction is then processed through VISA's global secure network, VISANet, which processes all VISA transactions. "Contactless is the future of payments in India." An optimistic Mr TR Ramachandran (Visa Group Country Manager for India and South Asia)opines, "Since its launch, Visa payWave has gained strong momentum and wide merchant acceptance and we have now reached critical mass to serve as a building block for creating the payment system of the future."
As per RBI norms, transactions using contactless cards below Rs.2,000 can be processed without a PIN. Thankfully, as reports1 suggests, over 60% of the financial transactions in India are below Rs.2,000.Taking advantage of this fact, many financial institutions in India have partnered with VISA to issue contactless debit cards powered by payWave. Recently, VISA has clocked a major milestone, by issuing a million payWave cards and their acceptance at more than 100,000 merchant locations across India including- Big Bazaar, Future Bazaar and Dominos.
These cards are as secure as any other Visa debit card. They carry the same multiple levels of security, which ensures that you are safe from fraudulent or unauthorised transactions. Visa payWave only works when the card is within 4 cm of the card reader and the payWave terminal can only process one transaction at a time. Since you don't have to give the card to anyone, and the Visa payWave card doesn't leave your hand during the transaction, you remain in control of your card at all times.
On the flip side, even though a few supermarkets have upgraded to secure readers, only a small segment has adapted to this technology. The payment process hasn't speeded up completely, as all consumers don't know about payWave. If your card is lost, transactions below Rs 2000 can be fraudulently debited from your account. Although, through VISA's infrastructure for debit cards, theft and reconciliations will be handled like any other VISA debit card.
Looks like contactless cards are here to stay. VISA payWave can hope to contribute to greater debit card usage instead of cash at POS terminals and provide customers with a new payment solution by a simple wave of the card on a contactless reader. Here's to faster checkouts and shorter queues.